San Juan River 2018 Special Guided Trips
Our Special Guided Trips are for flexible folks that are traveling solo or with just a few, but still want to get out on the river.  On the trip, our guide will load and unload group gear, make camp, cook meals, and would enjoy your help with it all.  This is along with showing and helping you on hikes to pictograph & petroglyph sites, a few ruins, and more.  There will be time for relaxing and private time, too. **One small disclaimer: We need a minimum of 4 paddlers to sign-up individually or as a whole to make this trip a go (or payment for 4).  Group size will not be bigger than 10.  River crew refer to a trip like this as, a "mixed bag trip".  We will meet you at 9:00 am MDT at the Sand Island Boat Ramp in Bluff, Utah the morning of your trip and bring you back to Sand Island at the end of the trip.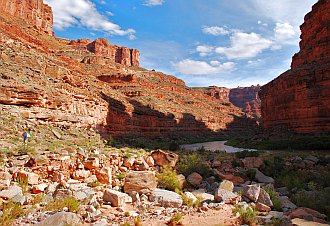 1.) 3-day All Paddle Raft Trip on the upper half of the San Juan River (Sand Island to Mexican Hat) is an all-involved, you-assist-to-propel rafting trip.  Cost for 3 days is $849 per person.
2.) 4-day All Paddle or Oar Raft Trip on the upper half of the San Juan River (Sand Island to Mexican Hat) with either one paddle raft or one oar raft and one gear boat.  Cost for 4 days is $949 per person.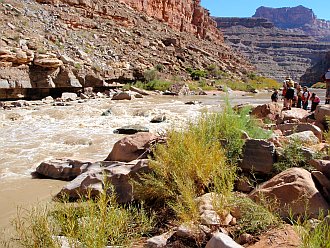 3.) 8-day All Paddle or Oar Raft Trip on the upper and lower San Juan River (Sand Island to Clay Hills) with either one paddle raft or one oar raft and one gear boat.  Cost for 8 days is $2,100 per person.
Launch Dates for 3, 4, or 8 Day Tours for the San Juan River 2018 Multi-Day Trips:
March 10th, March 11th, March 17th, March 18th, March 24th, & March 25th
April 10th, April 25th, April 28th, & April 29th
May 14th & May 19th
June 1st, June 6th, June 11th, June 17th, June 24th, & June 30th
July 15th, July 21st, July 28th, & July 29th
August 5th, August 9th, August 11th, August 15th, August 18th, August 19th, & August 26th
September 1st
The San Juan River is a highly regulated and permit-approved river.  If you are interested in a launch date not listed, please contact us with your request.  Launch date availability may change depending on reservations booked throughout the year.
ITINERARIES ARE SUBJECT TO CHANGE DUE TO LOCAL CONDITIONS OR THE DISCRETION OF TRIP LEADERS.
*We strongly advise against traveling to and from Bluff on your put-in and take-out dates.
What Moab Rafting and Canoe Company brings:
• We, at Moab Rafting and Canoe Company, serve our guests top notch cuisine.  Breakfasts may include juice and hot beverages, fresh fruit, bagels & cream cheese, hot & cold cereal, eggs, and French Toast with pure maple syrup and morning sausage.  Lunches are buffet style with bread & delicious Boar's Head meat, plus selections of fresh veggies, cheese, cookies, and chips.  Peanut butter and jelly is an additional option.  For dinner, we present fresh salad or vegetables to go along with hearty gourmet entrees featuring the highest quality and richest flavor meat and seafood purchased from our local butcher, Ye Ol' Geezer Meat Shop.  Don't forget to save room for dessert!
Also, we will bring things like…
• Drinking and cooking water (must be carried in) – 1 gallon per person per day, along with 1 gallon per day for cooking
• Camp gear, Kitchen commissary, Staples, Coolers, Stove, Ice, and Food
TRIP COST INCLUDES:
-Meals from lunch on the first day through lunch on the last day
-One large dry bag per person
-Guide(s)
-Group boating and camping equipment, camp chairs, and the river toilet system
TRIP COST DOES NOT INCLUDE:
-Transportation to and from Bluff, Utah, or to and from Moab, Utah
-Personal camping equipment such as tents, sleeping pads, and sleeping bags (You can rent these from us.)
-Gratuities for the guide(s)
-Alcoholic beverages or soda.  Commercial outfitters are prohibited from providing alcohol, however, you are welcome to bring your own for camp.
-Tax and government usage fees
*By state law, all who go out on the river must be a minimum of 40 pounds in weight.  Additionally, children 12 years and younger must always wear a PFD on all Utah State waters.
Please visit Packing List for a list of suggested gear to bring.
Reservation and Cancellation Policy: Feel free to call, mail, or email us for date availability.  At this point, we will send out a trip packet with more information, including Registration and Release Forms.  We will ask for credit card to hold the trip date and gear rental.  RESERVATIONS ARE NOT BOOKED UNLESS WE HAVE A VISA OR MASTERCARD ON FILE.  A $100 non-refundable per person deposit is required to secure your trip date.  Please contact us as early as possible if you need to make any changes.  Cancellations 30 days or more of your trip, will receive a full refund minus the non-refundable deposit.  Regarding the possibility of having to cancel, we strongly suggest you purchase trip cancellation insurance to protect your vacation investment, as there are NO EXCEPTIONS OUTSIDE THE CANCELLATION POLICY.  Remainder of payment is due in full 30 days from the date of your launch by Visa, MasterCard, or cash.
Again, over the years of booking trips, we have to say that we know the river.  But, every trip is different.  The time of season, water levels, and much more, make the river fun all of the time!  Give us a call and we will be happy to see what kind of trip we can create for you!
It is our policy to reserve the right to cancel any trip at the last minute due to extreme and unsafe conditions such as high water (over 35,000 c.f.s.), fast-moving water, low water, cold, or high winds.  Should this occur, no money will be exchanged.  If conditions allow, we can/will postpone for a few hours or to the next day.