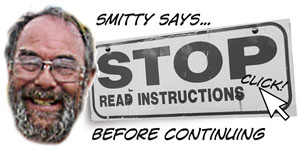 Self-Guided Green River through Labyrinth Canyon to Mineral Bottom
                  A BUCKET LIST TRIP!
~Premier Flat Water Paddling through Amazing Red Rock Canyons~
Leave the world behind as your excursion begins on the quiet waters of the Green River through Labyrinth Canyon.  Follow in the footsteps of the ancient Anasazi, the explorer John Wesley Powell, and Butch Cassidy on one of the best flat water river sections in the West.  Its steep red canyon walls, smooth water, wildlife, and solitude are some of the features that you can expect while paddling in this area.  After launching at Ruby Ranch, a privately owned and working ranch founded in 1884, you soon enter the canyon itself and meander peacefully down this remote, 47-mile stretch of calm water into the heart of this hidden wonderland, primed for adventure.  The canyon grows deeper with every twist of the river, as cliff walls rise sharply from the river's edge, displaying a rainbow of colors with the changing light of the day, and breathtaking fiery sunsets.  Listen quietly and you will begin to hear the sounds of the desert, the soft wind in a cottonwood tree, the shriek of a peregrine falcon, or the rumble of rock as a Desert Bighorn sheep may come down to the river at dusk.  Floating through Labyrinth Canyon offers a study in history and the geological transformations that make Utah's canyons such a unique natural wonder.
Many excellent opportunities for hiking and exploration present themselves along the way, including many side canyons that line the river, and chances to explore stone arches, ancient rock art, and ruins.  From expedition markings on canyon walls which date as early as 1836, to a breathtaking panoramic vista from the top of Bowknot Bend, Labyrinth Canyon reveals miles of striking natural beauty and the thrill of unparalleled surprise and wonder at every turn.
The Green River, down Labyrinth Canyon, has more than a lifetime of exploring up numerous side canyons, the untouched desert landscape, and Anasazi historical ruins that will have you returning year after year for even longer trips!
A Self-Guided Trip is an expedition that is self-governing where one navigates and is responsible for all of the paperwork, planning, footwork, and knowledge of equipment/gear, the area, the river, and route oneself.  The Bureau of Land Management (BLM) can be a great place to start with providing suggestions, maps, instructions, directions, and items to see or do during self-guided tours.
On the morning of your Self-Guided Green River Labyrinth Canyon Canoe Trip, you will meet at approximately 8:30 am at our shop in Moab, at 2480 S. Highway 191.  At this time, we will process your bill, have you complete some paperwork, and prepare your BLM permit & fees.  In addition, there will be a 15 minute briefing to go over the river map and possible camps and hikes.  It is your responsibility to be prepared and ready to go when you arrive at our shop the day of your launch.  Your shuttle will leave by 9:30 am (about 1 hour and 45 minutes to the river from our shop).  Your Shuttle Driver will not make any "pit stops" between our shop and the river.  Jumping ahead to the take-out at Mineral Bottom: Your shuttle vehicle arrives to pick you up at approximately 1:00 pm.  We go up the Horsethief Trail, a very steep and precarious switchback dirt road (this is no joke!).  It is 1 ½ miles on a one lane road, rising 900 feet in elevation, where we can take one last look at the river.  If there is inclement weather, Mineral Bottom road becomes impassable for shuttle vehicles.  Return time to our shop is approximately 3:30 pm.
No other company does as many Self-Guided Trips through Labyrinth, as well as Guided Trips, on this section!
*We advise against traveling to and from Moab on your put-in and take-out dates.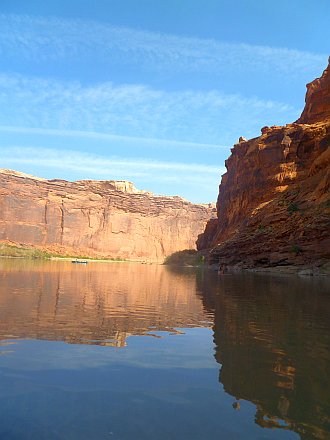 What you will need to bring:
River map, river toilet (mandatory), group camping equipment/kitchen commissary, staples, coolers, stove, tent, sleeping bag, sunblock, insect repellent, sun hat, and meals from lunch on the first day to lunch on the last day (Please visit our Packing List for a more extensive list.)
Drinking and cooking water (

must be carried in!

) – 1 gallon per person per day, along with ½ to 1 gallon per meal for cooking (consider menu, group size, and days out on the river).  You may fill water jugs at our location.
Ruby Ranch Fees (exact cash only): $5 per person and $10 per vessel (not included in MRCC's total)
BLM Permit for Labyrinth Canyon to be obtained for free at: Labyrinth Canyon Permit                                                                                                                                                                 (Don't forget to bring a second copy for us, your outfitter!)
Trip Planners & Considerations:
Green River Canoe Trips: 3 to 10+ days.

  This section of the Green River is suitable for paddlers of all abilities who are well prepared.  With a Self-Guided Trip, it is up to you to know your own abilities.
Ideally, this particular flat water section of the Green River, Labyrinth Canyon (in our opinion, as a rafting and canoe company), is best canoed!  A canoe allows you to bring enough creature comforts and gear (water jugs, river toilet, tents, camp chairs, etc.) with you, without being cramped. In high water, you are able to paddle up deep into narrow canyons, and in low water, the canoe does not have as much drag as other vessels.
Our River Season is from March 1st to October 31st.  Regarding Mother Nature and the river, as much as you want (and ask), we cannot give you absolutes, especially in terms of the extreme desert conditions and variances that occur in our environment daily.  This is why we speak in generalities and tell you to be well prepared for your trip!  The desert is a lesson in extremes and unpredictability.
Seasonal differences necessitate flexibility.  You will have different concerns depending on the time of year you will be traveling.  Temperatures range from 100+ degrees in the summer to sub-zero some winters.  Day and night temperature differences can also be extreme.  Thunderstorms can build quickly, bringing with them lightening and flash floods.  The one predictable element you can rely on is the afternoon up-canyon winds.  High, gale-like winds usually accompany storm fronts.  Water levels fluctuate seasonally.  Be aware that during high water, you will have powerful water, currents, and strong eddies, and your travel time can be much faster.  When the river is low, you will be moving more slowly and need to paddle more…sandy beaches make for good rest stops.  Boaters can paddle, enjoy a picnic lunch on a sandy beach, and go for a swim in the river during the warm months.  From day & night, temperatures can be extreme.  They range from 100+ degrees in the summer, to sub-zero in the winter.  Drink plenty of water along the way and put on that sunscreen and lip balm.
Put-ins: Green River State Park (66 miles) or Ruby Ranch (47 miles)
This Self-Guided Trip requires a high level of responsibility and your due diligence in research, as you will be going into backcountry wilderness.  As navigator, you will have to pay attention to river mileage and your travel speeds.  You are your own captain!  The area is remote and services are non-existent.  Your group must be self-contained and self-reliant to deal with emergency situations.  Cell phone service is not available within the canyons.  A satellite phone is optional, but highly recommended.  If this is looking like too much responsibility, you should really start with a Guided Green River Canoe Trip.
There are no designated campsites along the river.  You will be camping in backcountry wilderness…you will get dirty, wet, sandy, and muddy!
Your group is responsible for knowing and adhering to all Utah boating and backcountry laws and river regulations, as well as being aware of any current fire ban in effect.
April to June

(for the most part): In the afternoon, up-canyon winds are an almost daily occurrence.   An early camp will help minimize the time spent paddling in the wind.  Most people choose to get an early start and try to make camp by mid-afternoon.
May and June

(for the most part): During "

high water,

" your travel time can be faster, so you should know how to paddle in river currents and strong eddies.
March, April, July to October

: When the river is low, the sand islands come out.  During "low water," you will need a minimum of 4 days to complete the trip.
You are required to check that you have all necessary equipment such as PFDs, throwing device, bail bucket, whistle, fire pan, river toilet, and paddles with a spare, before we can take you to the put-in.
LEAVE NO TRACE OF YOUR STAY.  YOU MUST PACK OUT EVERYTHING YOU PACK IN!  
*By state law, all who go out on the river must be a minimum of 40 pounds in weight.  Additionally, children 12 years and younger must always wear a PFD on all Utah State waters.
Self-Guided Prep-Work "Time to Get Out Your Calculator"
Round Trip Shuttle Cost Per Trip:
| | |
| --- | --- |
| 1 to 2 people $265 | 5 to 14 people $575 |
| 3 to 4 people$365 | 15 to 20 people $920 |
*We do not move vehicles.
MRCC is one of the few companies that allows your "best friend" to join you on your canoeing river trip!  We can move dogs on the shuttles, at $20 per dog.  (Not all dogs like being in a canoe, so think this one through.  Remember, this is a river, not a lake.)
Canoe Rental: What canoe do you want/need?
The Wenonah is a must have for the serious canoeist.  We offer the best brand canoes and are the only company in town that rents these award-winning, high performance Wenonah Canoes!  These are larger, yet lighter weight, more stable canoes, each individually handcrafted in the United States (not mass-produced from overseas).

Wenonah Cascade: 17 ½ feet $40 a day
Wenonah Champlain: 18 ½ feet $50 a day
Wenonah Spirit II: 17 feet $50 a day
Wenonah Solo Wilderness: 15 ½ feet $30 a day
Osagian Classic Aluminum: 15 feet $40 a day
EQUIPMENT included with tandem canoe rentals: PFDs (Personal Floatation Devices, a.k.a. life vests) (2), Paddles (3), Throwing device, Bail bucket, Whistle, and a Fire pan
Canoe Rental Cost Per Trip

No. of Canoe(s)
x Canoe Cost ($30 – $50)
$
=
$
No. of Days
=
$
Total Canoe Cost
Wenonah Cascade
17 ½ feet $40 a day.  A great general use, canoe camping, and family boat.
Dimensions
Overall Length: 17′ 0″  (518.16 cm)
Gunwale Width: 36″  (91.44 cm)
Maximum Width: 37″  (93.98 cm)
Waterline Width: 34.5″  (87.63 cm)
Stern Depth: 22″  (55.88 cm)
Center Depth: 13.5″  (34.29 cm)
Bow Depth: 22″  (55.88 cm)
Rocker: 2″  (5.08 cm)
Wenonah Champlain
18 ½ feet $50 a day.  A versatile design with enhanced efficiency and seaworthiness.  A larger, more stable version of our versatile Spirit II and our largest canoe available to rent, the Champlain has the efficiency and capacity to haul heavy loads long distances.  Its length and profile give good speed and glide, which it retains very well with a load.
Dimensions
Overall Length: 18′ 0″  (548.64 cm)
Gunwale Width: 36.5″  (92.71 cm)
Maximum Width: 37″  (93.98 cm)
Waterline Width: 36.75″  (93.345 cm)
Stern Depth: 20″  (50.8 cm)
Center Depth: 14″  (35.56 cm)
Bow Depth: 22″  (55.88 cm)
Rocker: 1.5″  (3.81 cm)
Wenonah Spirit II
17 feet $50 a day.  Like a Swiss Army Knife, the Spirit II does everything.  As efficient as a long-hulled canoe and as maneuverable as a short one, the Spirit II strikes a balance between all good things.  Roomy enough for Boundary Waters style trips, it's even more stable when loaded.
Dimensions
Overall Length: 17′ 0″  (518.16 cm)
Gunwale Width: 35″  (88.9 cm)
Maximum Width: 36″  (91.44 cm)
Waterline Width: 35.5″  (90.17 cm)
Stern Depth: 19″  (48.26 cm)
Center Depth: 14″  (35.56 cm)
Bow Depth: 22″  (55.88 cm)
Rocker: 1.5″  (3.81 cm)
Wenonah Northfork
16 feet $35 a day.  This recreational hull extremely stable and very comfortable.  You can easily get in and out with your waders on and there's no need to worry about stability.
Dimensions
Overall Length: 16′ 0″  (487.68 cm)
Gunwale Width: 38″  (96.52 cm)
Maximum Width: 40″  (101.6 cm)
Waterline Width: 38″  (96.52 cm)
Stern Depth: 17″  (43.18 cm)
Center Depth: 13″  (33.02 cm)
Bow Depth: 19″  (48.26 cm)
Rocker: 1.25″  (3.175 cm)
Wenonah Solo Wilderness
15 ½ feet $30 a day.  Its well-rounded stability and moderate rocker make it a great down-river boat, while inspiring confidence whether on a loaded tour or evening paddle.
Dimensions
Overall Length: 15′ 4″  (467.36 cm)
Gunwale Width: 27″  (68.58 cm)
Maximum Width: 30.5″  (77.47 cm)
Waterline Width: 29.75″  (75.565 cm)
Stern Depth: 17″  (43.18 cm)
Center Depth: 14″  (35.56 cm)
Bow Depth: 19″  (48.26 cm)
Rocker: 1.25″  (3.175 cm)
Osagian Classic Aluminum Canoe
15 feet $40 a day.  The best all-around choice for entry and intermediate-level canoeists in a wide variety of applications.  GREAT for school groups, Scout Troops, big groups, and the young, etc.
Dimensions
Overall Length: 15′  (466.36 cm)
Gunwale Width: 36″  (67.58 cm)
Maximum Width: 30.5″  (77.47 cm)
Waterline Width: 29.75″  (75.565 cm)
Stern Depth: 13″  (41.18 cm)
Center Depth: 14″  (35.56 cm)
Bow Depth: 19″  (48.26 cm)
Rocker: 1.25″  (3.175 cm)
Personal Boat Transportation Rates:
In addition to the shuttle charges for individuals and their gear, fees are charged for the handling and transport of each boat that is not rented from Moab Rafting and Canoe Company.
| | |
| --- | --- |
| Boat Type | Price |
| Canoes, Sea Kayaks, Inflatable Kayaks, and SUPs | $35 each |
Available rental gear per trip (see prices below):
Rental Gear


Item

Cost

Quantity

 

Total

Item

Cost

Quantity

 

Total

River toilet

$45

 

 

$
Trash bucket

$5

 

 

$
5 gal. H2O jug

$8

 

 

$

2 Person tent

$30

 

 

$
Dry bag: sm & med/lg & xl

$10/$20

 

 

$
30 Degree Sleeping bag

$15

 

 

$
60 qt. Cooler

$20

 

 

$
Sleeping pad

$20

 

 

$
PFD

$15

 

 

$
Camp chair

$10

 

 

$
Paddle

$5

 

 

$
Roll-A-Table

$20

 

 

$
Throw bag/cushion

$10

 

 

$
*Kitchen set

$125

 

 

$
Fire pan

$10

 

 

$
Dog shuttle fee

$20

 

 

$
Propane stove (2 burner, you need to

$25

 

 

$
River map (purchase)


$20

 

 

 

supply propane)
 
 

Subtotal

=

$

 

 

 
 

Utah Tax (8.60%)

=

$

 

 

 
 

Balance Due

=

$
*Full Kitchen set includes: plates, bowls, cups, knives, forks, spoons, cutting knives, can opener, salad bowl, fry pan, pot & strainer, pot holder, cutting board, and washing bins inside a 24 gallon Action Packer dry box for transporting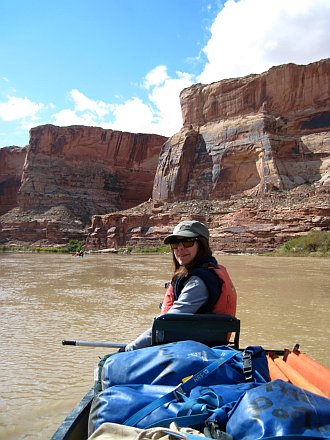 To reserve your trip date and rental gear: Feel free to call or email us for date availability.  We will be more than happy to send out a trip packet with more information and a worksheet for you to fill out and submit.  We will ask for credit card to hold the trip date.  If you have to cancel within 14 days of your trip, we will run your card for 50% of your booked reservation total.  If you cancel within 3 days of trip or if you are a "no show", we will run the card for the whole amount of the reservation.  Regarding the possibility of having to cancel, we strongly suggest you purchase trip cancellation insurance to protect your vacation investment, as there are NO EXCEPTIONS OUTSIDE THE CANCELLATION POLICY.  All reservation fees are due in full by the day of the trip by Visa, MasterCard, or cash.
Again, over the years of booking trips, we have to say we know the river.  But, every trip is different.  The time of season, water levels, weather the day you have booked for, and much more make the river fun all of the time!
It is our policy to reserve the right to cancel any trip at the last minute due to extreme and unsafe conditions, such as high water (over 22,000 c.f.s.), fast-moving water, low water, cold, or high winds.  Should this occur, no money will be exchanged.  If conditions allow, we can/will postpone for a few hours or to the next day.
For groups of 10 or more, a deposit of $20 per person is due the day of reserving your trip date.  This is non-refundable.  The balance is due the day of launch date for the group size and equipment you reserved.