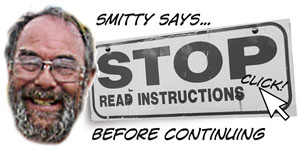 Self-Guided Green River through Stillwater Canyon to the Confluence
There are 52 miles of calm water paddling on the Green River as it travels through Canyonlands National Park.  The Green meanders quietly through Stillwater Canyon on its course to the Confluence with the Colorado River.  The river widens and slows in pace through Stillwater, passing by the canyon walls that rise in ever increasing heights along its shores.  Abundant remnants of the ancient Anasazi culture remain in the form of ruins and rock art.  Hiking opportunities are plentiful.  The large bottom lands along the river are home to an array of wild life, including deer, coyotes, and herds of desert bighorn sheep.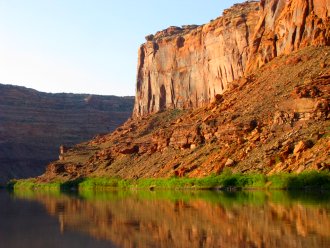 Five miles past your put-in at Mineral Bottom (which we drive down to on a very steep and precarious 1 1/2 mile, one lane switchback dirt road that descends 900 feet!), the river enters Canyonlands National Park.  Once you launch, there is little road access to the river, increasing the wilderness quality of your trip down Stillwater.  There are no vehicle access take-outs below Mineral Bottom.  To return to Moab, you will be met at the Confluence or Spanish Bottom by a pre-arranged chartered jet boat service and travel up-river on the Colorado River.  A backcountry permit is required by the National Park Service for the time spent within Canyonlands National Park.  This section is suitable for all paddling abilities.  Please allow a minimum of 4 days to complete this trip.  Extra days are recommended for exploring off-river sites.  For longer trips, you may combine this stretch with Labyrinth Canyon for 100 miles of continuous premier flat water paddling (with a put-in at Ruby Ranch).

Stillwater Canyon to the Confluence
Trip Summary:
Class: I rapids
Location: Southeastern Utah
Put-in: Mineral Bottom Boat Ramp
Take-out: the Confluence
Mileage: 52 miles
Trip length: 4 to 10+ days
Camping areas: Numerous sites atop of the cut bank or beaches and sand bars at low water
Permit needed: Yes – Canyonlands National Park 435-295-4711
*Jet boat transportation is required to return to Moab.  You may request a reservation through either:
Tex's Riverways 435-295-5101 or
Tag-A-Long Expeditions 435-259-8946
On the morning of your Self-Guided Green River Stillwater to the Confluence Canoe Trip, meet at 11:00 am at our shop in Moab, at 420 Kane Creek Blvd.  At this time, we will process your bill, have you complete some paperwork, and prepare your BLM permit & fees.  In addition, there will be a 10 minute briefing to go over the river map, and possible camps and hikes.  Your shuttle will leave by 11:30 am (about 1 hour and 45 minutes to the river from the shop).
What you will need to bring:
River map, river toilet (mandatory), group camping equipment/kitchen commissary, staples, coolers, stove, tent, sleeping bag, sunblock, insect repellent, sun hat, and meals from lunch on the first day to lunch on the last day (Please visit our Packing List tab for a more extensive list.)
Drinking and cooking water (

must be carried in

) – 1 gallon per person per day, along with ½ to 1 gallon per meal for cooking (consider menu, group size, and days out on the river).  You may fill water jugs at our location.
Fees, if launching at Ruby Ranch, (exact cash only and not included in MRCC's total): $5 per person and $10 per vessel
BLM Permit (if also going through Labyrinth) and Canyonlands National Park Permit
Trip Planners & Considerations:
Green River Canoe Trips: 3 to 10+ days.  This section of The Green River is suitable for paddlers of all abilities who are well prepared.
Our River Season is from March 1st to October 31st.
Put-ins: Ruby Ranch (100 miles) or **Mineral Bottom (52 miles)
This Self-Guided Trip requires a high level of responsibility and your due diligence in research, as you will be going into and camping in backcountry wilderness…you will get dirty, wet, sandy, and muddy!  As navigator, you will have to pay attention to river mileage and your travel speeds.  You are your own captain!  The area is remote and services are non-existent.  Your group must be self-contained and self-reliant to deal with emergency situations.  Cell phone service is not available within the canyons.  A satellite phone is optional, but highly recommended.  If this is looking like too much responsibility, you should really start with a Guided Green River Canoe Trip.

Your group is responsible for knowing and adhering to all Utah boating laws and backcountry laws and river regulations, as well as being aware of any current fire ban in effect.
April to June (for the most part): In the afternoon, up-canyon winds are an almost daily occurrence.   An early camp will help minimize the time spent paddling in the wind.
May and June (for the most part): During "

high water,

" your travel time can be faster, so you should know how to paddle in river currents and strong eddies.
March, April, July to October: When the river is low, the sand islands come out.
You are required to check that you have all necessary equipment such as PFDs, throwing device, bail bucket, whistle, fire pan, river toilet, and paddle(s) with a spare, before we can take you to the put-in.
Dogs are not allowed on your river trip through the National Park, per their rules.
**NOTE: If there is inclement weather, Mineral Bottom road becomes impassable for shuttle vehicles.
By state law, all who go out on the river must be a minimum of 40 pounds in weight.  Additionally, children 12 years and younger must always wear a PFD on all Utah State waters.
LEAVE NO TRACE OF YOUR STAY.  YOU MUST PACK OUT EVERYTHING YOU PACK IN!
Self-Guided Prep-Work "Time to Get Out Your Calculator"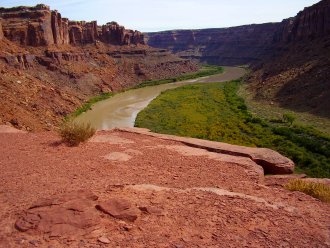 Canoe rental: What canoe do you want/need?
The Wenonah is a must have for the serious canoeist.  We are the only company in town that rents the high performance, award-winning Wenonah Canoes!
Wenonah Cascades 17 ½ feet $40 a day
Wenonah Champlain 18 ½ feet $50 a day
Wenonah Spirit II 17 feet $50 a day
Wenonah Solo Wilderness 15 ½ feet $30 a day
EQUIPMENT included with tandem canoe rentals: PFDs (Personal Floatation Devices, a.k.a. life vests) (2), Paddles (3), Throwing device, Bail bucket, Whistle, and a Fire pan
Canoe Rental Cost Per Trip

No. of Canoe(s)
x Canoe Cost ($30 – $50)
$
No. of Days
=
$
Total Canoe Cost
Shuttle Cost to The Green River, with a pick-up at Tex's or Tag
| | |
| --- | --- |
| 1 to 4 persons $265 | 5 to 8 persons $375 |
One way Shuttle Cost to the Green River (Put-in only):
| | |
| --- | --- |
| 1 to 4 persons $175 | 5 to 8 persons $285 |
*We do not move vehicles.
Personal Boat Transportation Rates:
In addition to the shuttle charges for individuals and their gear, fees are charged for the handling and transport of each boat that is not rented from Moab Rafting and Canoe Company.
| | |
| --- | --- |
| Boat Type | Price |
| Canoes, Sea Kayaks, and Inflatable Kayaks | $35 each |
Available rental gear per trip (see prices below):
 Rental Gear

Item
Cost
Quantity
 
Total
Item
Cost
Quantity
 
Total
River toilet
$45.00
 
 
$
Helmet
$5.00
 
 
$
5 gal. H2O jug
$8.00
 
 
$
Tent
$25.00
 
 
$
Dry bag
$10.00
 
 
$
Sleeping bag
$15.00
 
 
$
60 qt. Cooler
$20.00
 
 
$
Sleeping pad
$20.00
 
 
$
PFD
$5.00
 
 
$
Camp chair
$10.00
 
 
$
Paddle
$5.00
 
 
$
Roll-A-Table
$20.00
 
 
$
Throw bag
$10.00
 
 
$
*Kitchen box
$95.00
 
 
$
Fire pan
$10.00
 
 
$
River map
$20.00
 
 
$
Stove (2 burner,
$25.00
 
 
$
 
 
 
 
 
you will need to bring propane)
 
 
                                Subtotal
=
$
 
 
 
 
     Utah Tax (8.60%)
   =
$
 
 
 
 
             Balance Due
   =
$
*Full Kitchen box includes: plates, bowls, cups, knife, fork, spoon, cutting knives, can opener, salad bowl, fry pan, pot & strainer, pot holder, cutting board, juice container, and washing pans
To reserve your trip date and rental gear: Feel free to call, mail, or email us for date availability.  We will be more than happy to send out a trip packet with more information and a worksheet for you to fill out and send back.  We will ask for credit card to hold the trip date and rental gear.  If you have to cancel within 14 days of your trip, we will run your card for 50% of your booked reservation total.  If you cancel within 3 days of your trip or if you are a "no show", we will run the card for the whole amount of the reservation.  All reservation fees are due in full by the day of the trip.
Again, over the years of booking trips, we have to say we know the river.  But, every trip is different.  The time of season, water levels, weather the day you have booked for, and much more, make the river fun all of the time!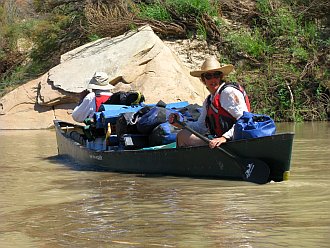 It is our policy to reserve the right to cancel any trip at the last minute due to extreme and unsafe conditions, such as high water (over 22,000 c.f.s.), fast-moving water, low water, cold, or high winds.  Should this occur, no money will be exchanged.  If conditions allow, we can/will postpone for a few hours or to the next day.
For groups of 10 or more, a deposit of $15 per person is due the day of reserving your trip date.  This is non-refundable.  The balance is due the day of launch date for the group size you reserved.