Guided Green River Canoe Trips through Labyrinth Canyon
Ruby Ranch to Mineral Bottom  ~  A 47-River Mile Float
~Premier Flat Water Paddling through Amazing Red Rock Canyons~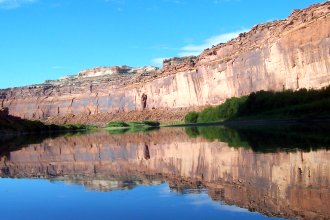 Leave the world behind as our excursion begins on the quiet waters of the Green River through Labyrinth Canyon.  We launch our boats at Ruby Ranch, a remote, private working ranch that was founded in 1884.  Once on the river, we soon enter the canyon itself as we meander peacefully down this 47 mile stretch of calm water into the heart of this hidden wonderland.  The canyon grows deeper with every twist of the river as cliff walls rise sharply from the river's edge, displaying a rainbow of colors with the changing light of the day.  Listen quietly and you will begin to hear the sounds of the desert, the soft wind in a cottonwood tree, the shriek of a peregrine falcon or the rumble of rock as a Desert Bighorn sheep may come down to the river at dusk.  Many excellent opportunities for hiking and exploration present themselves along the way.  From expedition markings on canyon walls which date as early as 1836, to a breathtaking panoramic vista from the top of Bowknot Bend, Labyrinth Canyon reveals miles of striking natural beauty and the thrill of unparalleled surprise and wonder at every turn.
Moab Rafting and Canoe Company offers guided tours through this beautiful section of the Green River.  We supply all specialized gear, including high performance Wenonah Canoes, and do everything possible to make your expedition as comfortable as possible.  Throughout your trip, we will provide you with hearty, delicious meals made from the freshest ingredients available.
This is a self-supported expedition and everyone will carry their personal gear, plus share in carrying some of the group equipment, in their boat.  All of our canoes  made of lightweight construction, so carrying equipment is easy and does not compromise the paddling experience.  Space in the boats is limited and, therefore, we ask that you use some discretion in packing your personal items for the trip.  Every member is provided with a dry bag that is large enough for your sleeping bag and clothing.  If you follow our suggested packing list, you should have enough gear for comfort, without being over-packed.  There is nothing better than food prepared fresh for you in the beauty of the outdoors each day and you will not be disappointed.  We serve delicious, energy packed meals with lots of variety to satisfy all tastes.  We are happy to accommodate any special dietary needs, just let us know what you like.
No previous canoeing experience is necessary to participate in this expedition.  There are no rapids on this fine stretch of river, making it a perfect place for beginners to learn the sport of canoe tripping.  Our crew will be happy to teach you basic paddling strokes or help you refine your existing skills.  As with most outdoor activities, the better shape you are in, the more you will get out of the experience.  We usually travel 10-15 miles a day on the river, which is a leisurely pace for most groups.  The river does a good part of the work for us, but plan on sitting in the boat for several hours a day, and some easy to moderate upper body use.  Hikes are optional and range from easy to somewhat strenuous.
LABYRINTH CANYON ITINERARY:
Sometime in the afternoon prior to the day of your trip, it would be great if you could stop by our shop to finish up paperwork, pay your bill, and get your dry bag so that you can pack the night before the trip.
FIRST DAY:  We will meet you at 9:30 am MDT at our shop in Moab, 2480 S. Highway 191, load up, and drive to the put-in at Ruby Ranch, for the Green River.  After loading our canoes and going over basic river and safety skills, we will begin our descent down river.  We will stop for a late lunch and maybe a hike before arriving at our first night of camp.  Trin-Alcove is made of three lovely slot canyons that intersect at the river.  This will either be a late afternoon hike for a summer trip or the first hike on the morning of day two.
MIDDLE DAY(S):  We continue our travels down river.  Some of the hikes to be enjoyed along the way are Hey Joe Canyon, Hell Roaring Canyon, or to the top of the Bowknot Bend, where we can visit the historic River Register and look at inscriptions left by explorers and trappers dating as far back as 1836, along with Native American drawings.  Each evening at camp, surrounded by the towering red rock cliffs, you will enjoy delicious, gourmet style meals while sharing your day's adventures with the rest of the group.
LAST DAY:  On our final day, we will paddle to the take-out at Mineral Bottom by noon for lunch and to unload canoes.  The shuttle vehicles will be there for us at 1:00 pm to load you and your gear.  We go up the Horsethief Trail, which is a very steep switchback road (this is no joke!) up 1 ½ miles on a one lane road, rising 900 feet in elevation.  There, we can take one last look at the river below us.  We should be back to our shop in Moab by approximately 3:30 pm.
ITINERARIES ARE SUBJECT TO CHANGE DUE TO LOCAL CONDITIONS OR THE DISCRETION OF TRIP LEADERS.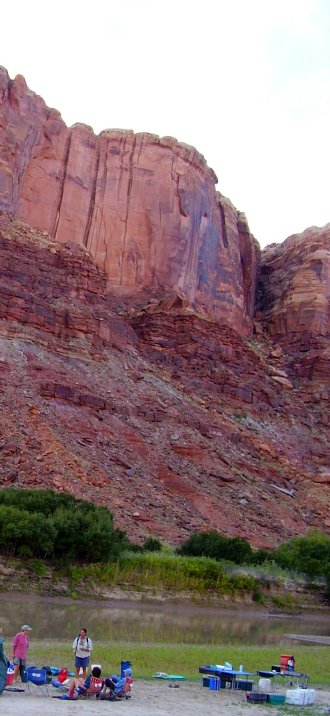 Custom Guided Green River Canoe Trip Cost Estimates:
With a minimum of 4 (or payment for 4) in your group, we can provide a private, customized tour, specific to your group's wants (ie. lots of hiking, more leisure time, or mainly floating, dietary needs, likes/dislikes, etc.).  We do not have an unwavering itinerary or group you together with 25 strangers!
3-day $749 per person
4-day $849 per person
5-day $999 per person
6-day $1,149 per person
• We, at Moab Rafting and Canoe Company, provide specialized tours and serve our guests top notch cuisine.  Breakfasts may include juice and hot beverages, fresh fruit, bagels & cream cheese, hot & cold cereal, eggs, and French Toast with pure maple syrup and morning sausage.  Lunches are buffet style with bread & only the best, most delicious Boar's Head meat, plus selections of fresh veggies, cheese, cookies, and chips.  Peanut butter and jelly is an additional option.  For dinner, we present fresh salad or vegetables to go along with hearty gourmet entrees featuring the highest quality and richest flavor meat and seafood purchased from our local butcher, Ye Ol' Geezer Meat Shop.  Don't forget to save room for dessert!
Also, we will bring things like…
• Drinking and cooking water (must be carried in) – 1 gallon per person per day, along with 1 gallon per day for cooking
• Camp gear, Kitchen commissary, Staples, Coolers, Stove, Ice, and Food
TRIP COST INCLUDES:
-Meals from lunch on the first day through lunch on the last day
-One large dry bag per person
-Guide(s)
-Group boating and camping equipment, camp chairs, and the river toilet system
-Transportation to and from the river from our shop in Moab
TRIP COST DOES NOT INCLUDE:
-Transportation to and from Moab
-Personal camping equipment such as tents, sleeping bags, and sleeping pads (You can rent these from us.)
-Gratuities for the guide(s)
-Alcoholic beverages or soda.  Commercial outfitters are prohibited from providing alcohol, however, you are welcome to bring your own for camp.
-Tax and private launch fee
*By state law, all who go out on the river must be a minimum of 40 pounds in weight.  Additionally, children 12 years and younger must always wear a PFD on all Utah State waters.
Please visit Packing List for a list of suggested gear to bring.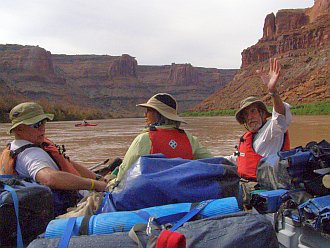 Reservation and Cancellation Policy: Feel free to call, mail, or email us for date availability.  At this point, we will send out a trip packet with more information, including Registration and Release Forms.  We will ask for credit card to hold the trip date and gear rental.  A $100 non-refundable per person deposit is required to secure your trip date.  Please contact us as early as possible if you need to make any changes.  Cancellations 30 days or more of your trip, will receive a full refund minus the non-refundable deposit.  Regarding the possibility of having to cancel, we strongly suggest you purchase trip cancellation insurance to protect your vacation investment, as there are NO EXCEPTIONS OUTSIDE THE CANCELLATION POLICY.  Remainder of payment is due in full 30 days from the date of your launch by Visa, MasterCard, or cash.
Again, over the years of booking trips, we have to say we know the river.  But, every trip is different.  The time of season, water levels, weather the day you have booked for, and much more, make the river fun all of the time!
It is our policy to reserve the right to cancel any trip at the last minute due to extreme and unsafe conditions, such as high water (over 22,000 c.f.s.), fast-moving water, low water, cold, or high winds.  Should this occur, no money will be exchanged.  If conditions allow, we can/will postpone for a few hours or to the next day.