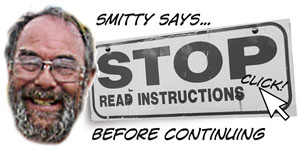 Cisco to Dewey Bridge or Hittle Bottom
 Floating the open lands on the Colorado River
              ~A serene, calm water float~
A great trip for family and friend reunions, scout and school troops, couples, corporate retreats, nature lovers, and you name it, who don't have time for an extended, multi-day trip!
As the Colorado River leaves the confines of Westwater Canyon and enters the muted shades of the Cisco Desert, he begins a series of broad meanders across a wide floodplain.  His channel is shallow and braided with the sand and gravel bars created from the sediments picked up from the long journey across Colorado.  Except for a brief stop to pick-up his younger sister, the Dolores River, where sharply tilted sandstone cliffs create a small ochre-walled canyon, the Colorado River here is a completely different river from the stretches downstream.  Boaters are treated to broad and open views of the farmlands and fields lining the river – this feels more like cowboy country on the open range.  Cottonwood groves provide cool shade on a hot summer day; in the spring, the trees are covered with new pale green leaves and in the fall they are golden and rustling with the breeze.  This is one of the best sections along the Colorado River for bird watching.  Migratory waterfowl use this part of the river as a wintering ground, whose milder temperatures and calmer weather are a refuge from the harsh climate further north.  It is not uncommon to see Canadian geese, ducks, herons, and other waterfowl on a late fall float downstream.  In spring, songbirds return to the river, and the banks and groves can be a symphony of bird calls.
Boaters put-in for this gentle stretch of river at the Cisco Boat Ramp.  Twenty + miles of paddling calm water with a few riffles will find you at Dewey Bridge or Hittle Bottom take-out.  A two or three day trip, with a night or two on the river, make this stretch a nice introduction to the Colorado River.  This trip is appropriate for beginner to advanced canoeists.
Trip Summary:
Class: I rapids
Location: Southeastern Utah
Put-in: Cisco Boat Ramp
Take-out: Dewey Bridge or Hittle Bottom
Mileage: 19 or 24 miles
Trip length: Overnight or 2 Nights
Camping areas: All along the river
What you will need to bring:
River map, river toilet (mandatory), camping equipment/kitchen commissary, staples, coolers, stove, tent, sleeping bag, sunblock, insect repellent, and meals from lunch on the first day to lunch on the last day
Drinking and cooking water (

must be carried in

) – 1 gallon per person per day, along with ½ to 1 gallon per meals for cooking.  You may fill your water jugs at our location.
Trip Planners & Considerations:
On the morning of your Self-Guided Colorado River Canoe Trip, meet at

9:30 am

at our shop in Moab, at 420 Kane Creek Blvd.  At this time, we will process your bill and have you complete some paperwork.  In addition, there will be a 10 minute briefing to go over river maps and possible camps and hikes.  Drive time to the river is at

10:30 am

(about 1 hour and 45 minutes to the river from our shop).
You will be going into and camping in the wilderness (you will get wet, sandy, and muddy!) and you, as navigator, will have to pay attention to river mileage and your travel speeds.  You are your own captain!  Services are non-existent. 
Jumping ahead to the take-out, pick-up is at

4:00 pm

, returning to our shop by approximately

5:00 pm

(about 1 hour back to our shop).
By state law, all who go out on the river must be a minimum of 40 pounds in weight.  Additionally, children 12 years and younger must always wear a PFD on all Utah State waters.
Self-Guided Prep-Work "Calculator Time"
Canoe rental:  What canoe do you want/need?
Wenonah Cascades 17 ½ feet $40 a day
Wenonah Champlain 18 ½ feet $50 a day
Wenonah Spirit II 17 feet $50 a day
Wenonah Solo Wilderness 15 ½ feet $30 a day
Osagian Classic Aluminum 15 feet $40 a day
EQUIPMENT included with tandem canoe rentals: PFDs (Personal Floatation Devices, a.k.a. life vests) (2), Paddles (3), Throwing device, Bail bucket, Whistle, and a Fire pan
Canoe Rental Cost Per Trip

No. of Canoe(s)
x Canoe Cost ($30 – $50)
$
No. of Days
=
$
Total Canoe Cost
Round Trip Shuttle Cost for this Trip:
| | |
| --- | --- |
| 1 to 2 persons $265 | 5 to 14 persons $575 |
| 3 to 4 persons $365 | 15 to 20 persons $945 |
*We do not move vehicles.
MRCC is one of the few outfitters that allows your "best friend" to join you on your canoeing river trip!  We can move dogs on shuttles, however, we ask for a $20 fee per dog.  (Not all dogs like being in a canoe, so think this one through.  Remember, this is a river, not a lake.)
Personal Boat Transportation Rates:
In addition to the shuttle charges for individuals and their gear, fees are charged for the handling and transport of each boat that is not rented from Moab Rafting and Canoe Company.
| | |
| --- | --- |
| Boat Type | Price |
| Canoes, Sea Kayaks, Inflatable Kayaks, and SUPs | $35 each |
Available gear rental per trip (see prices below):
Rental Gear
Item
Cost
Quantity
Total
Item
Cost
Quantity
Total
River toilet
$45
$
Trash bucket
$5
$
5 gal. H2O jug
$8
$
Tent
$25
$
Dry bag: sm & med/lg & xl
$10/$20
$
Sleeping bag
$15
$
60 qt. Cooler
$20
$
Sleeping pad
$20
$
PFD
$5
$
Camp chair
$10
$
Paddle
$5
$
Roll-A-Table
$20
$
Throw bag
$10
$
*Kitchen box
$95
$
Fire pan
$10
$
Dog fee
$20
$
Propane Stove, 2 burner
$25
$
River map (purchase)
$20
(you will need to bring propane)
Subtotal
=
$
Utah Tax (8.60%)
=
$
Balance Due
=
$
*Full Kitchen "box" includes: plates, bowls, cups, knives, forks, spoons, cutting knives, can opener, salad bowl, fry pan, pot & strainer, pot holder, cutting board, and washing bins
To reserve your trip date and rental gear: Feel free to call or email us for date availability.  We will be more than happy to send out a trip packet with more information and a worksheet for you to complete and return.  We will ask for credit card to hold the trip date and rental gear.  If you have to cancel within 14 days of your trip, we will run your card for 50% of your booked reservation total.  If you cancel within 3 days of trip or if you are a "no show", we will run the card for the whole amount of the reservation.  All reservation fees are due in full by the day of the trip.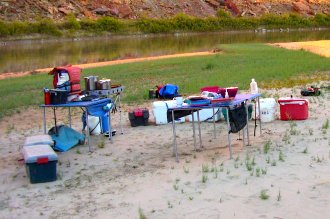 Again, over the years of booking trip we have to say we know the river.  But, every trip is different.  The time of season, water levels, weather the day you have booked for, and much more make the river fun all of the time!
It is our policy to reserve the right to cancel any trip at the last minute due to extreme and unsafe conditions, such as high water (over 22,000 c.f.s.), fast-moving water, low water, cold, or high winds.  Should this occur, no money will be exchanged.  If conditions allow, we can/will postpone for a few hours or to the next day.
For groups of 10 or more, a deposit of $15 per person is due the day of reserving your trip date.  This is non-refundable.  The balance is due the day of launch date for the group size you reserved.