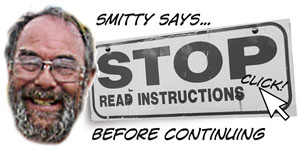 Day Canoe Trip on the Colorado River
MOAB BRIDGE TO GOLD BAR – FLAT WATER
          ~A serene, calm water float~
As the Colorado River leaves the wide canyons to re-enter his steep-walled sandstone gorge, he slows to a peaceful pace and becomes a gentle float through breathtaking red rock canyons.  This section allows you to escape the hustle and bustle of town and experience an intimate paddle on the Colorado.  The Matheson Wetlands Preserve lies along the wide river bend just downstream from Moab, where boaters can bird watch as they float past the only major wildlife preserve along the Colorado River in the state of Utah.  Blue herons stand patiently and solid, waiting for fish on the sandy banks and soft sandbars of the river.  Hawks, ravens, and the occasional osprey circle overhead in the endless blue slice of sky.  The area was set aside in 1991, to protect wetland species and to educate visitors about the fragile and diverse ecosystems that are so crucial to southwestern rivers.
Below the put-in at the Moab Boat Ramp, where Highway 191 crosses the Colorado, the river flows through the imposing sandstone cliff line called "The Portal."  The sheer red rock wall that lines the river on the right bank for several miles is known as "Wall Street", a rock climber's paradise and an increasingly popular location for the sport.  From here, the river wanders back and forth through stunning sheer buff-colored sandstone walls for either 11 miles to Gold Bar Recreation Site, or 17 miles to the Potash Boat Ramp for a full day paddle trip.  This section is rich in Anasazi rock art, arches, massive cliffs, and strange eroded landforms.  There are even dinosaur tracks in the rocks, reminders of days when the great creatures wandered the sand dunes of a long-vanished desert.
For those who don't mind an additional two hours, it is 6 more glorious miles to Potash.  You will continue around Amasa Back, the large mesa on river left, with the Potash factory on the right.  The canyon widens beyond this point, revealing the sheer cliffs below Dead Horse Point State Park.  This is really an amazing sight to see!  Your take-out will be on river right at the Potash Boat Ramp.
In all, the calm water, extraordinary scenery, and close proximity to Moab make this stretch one of the most desirable flat water day floats in the area and exclusively offered by Moab Rafting and Canoe Company.
The desert is a lesson in extremes, depending on the time of year you are traveling.  The one predictable element you can rely on in the springtime, is the afternoon up-canyon winds.  Water levels fluctuate seasonally.  Be aware that during high water, you will have powerful water, currents, and strong eddies, and your travel time can be much faster.  When the river is low, sandy beaches make for good rest stops.  Boaters can paddle, enjoy a picnic lunch on a sandy beach, and go for a swim in the river during the warm months.  Summer thunderstorms can build quickly and usually accompany storm fronts with high winds (galelike).  From day & night, temperatures can be extreme.  They range from 100+ degrees in the summer, to sub-zero in the winter.  Drink plenty of water along the way and put on that sunscreen and lip balm.
We are proud to say that Moab Rafting and Canoe Company is the only outfitter specializing in day trips on this section of Colorado River!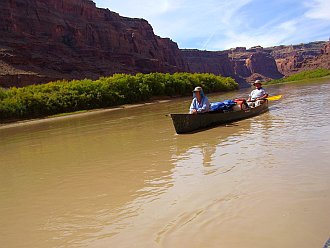 Trip Summary:
Class: I rapids
Put-in: Moab Boat Ramp
Take-out: Gold Bar Recreation Site/Campgrounds
Mileage: 11 miles
Trip length: 1/2 day
OR
Class: I rapids
Put-in: Moab Boat Ramp
Take-out: Potash Boat Ramp
Mileage: 17 miles
Trip length: 1 day
Self-Guided Day Canoe Trip Includes:
Canoe rental (tandem and/or solo), PFDs (Personal Floatation Devices, a.k.a. life vests), Paddles, Throwing device, Bail bucket, Whistle, Copy of the River map, and your Shuttle to and from the Colorado River
On the morning of your Self-Guided Day Canoe Trip, you will meet us at our shop in Moab (at your pre-arranged reservation time, approximately 8:30 am), at 2480 S. Highway 191.  At this time, you will pay the bill, complete some paperwork, and have a 10-minute river safety and map talk.  You will return to our shop at approximately 2:30 pm.  Times are based on availability and water flows during the season.
For July 1st to September 15th Trips:
Meet at our shop at approximately 8:30 am and return to shop at approximately 3:30 pm.
What you should wear:
Shoes that have ankle support and can get wet (Flip-flops do not work so well.)
Quick dry top and bottom, hat, and long sleeves for sun protection, if desired
Rain gear (optional, but top & bottom are good gear to always have)
What you need to bring:
Plenty of drinking water and/or any other beverages for the day and any snacks or lunch you may want to enjoy along the way.  (A cooler will fit in the canoe.  You may bring your own, or rent one from us.)
Sunscreen, a hat, a wristwatch or time keeping device, a camera (at your own risk), sunglasses with safety strap, insect repellent, lip balm, and you are good to go!
Trip Planners & Considerations:
Our River Season is March 1st to October 31st.
You will have different concerns depending on the time of the season you are traveling.  Water levels fluctuate seasonally and from year to year.
You will have to pay attention to river mileage and your travel speeds, as you will be going into the wilderness.  Services are mostly non-existent.  With a Self-Guided Trip, it is up to you to know your own abilities.
April to June

(for the most part): In the afternoon, up-canyon winds are an almost daily occurrence, with an early-afternoon take out this will help to minimize the time spent paddling in the wind.
May and June

(for the most part): During

"high water"

, your travel time can be faster, so you should know how to paddle in river currents and strong eddies.
March, April, July to October:

When the river is low, the sand islands come out.
You are required to check that you have all necessary equipment such as PFDs, throwing device, bail bucket, whistle, and paddle(s) with a spare, before we can take you to the put-in.
*By state law, all who go out on the river must be a minimum of 40 pounds in weight.  Additionally, children 12 years and younger must always wear a PFD on all Utah State waters.
# of Tandem (2 person) Canoes:______ x $99 ($109 to Potash, for more experienced paddlers) = _________
# of Solo (1 person) Canoes:______ x $59 ($69 to Potash) = _________
# of Additional "Rider" (Child) in the Tandem Canoe:______  x $15 = ______
(When two people are paddling the canoe, you can have one child rider, however, their weight should not be over 90 pounds.)
MRCC is one of the few outfitters that allows your dog to join you on your canoeing river trip!
# of Dogs:______  x $10 = _________
TOTAL:_________x 8.60% Utah State Tax = BALANCE DUE: $__________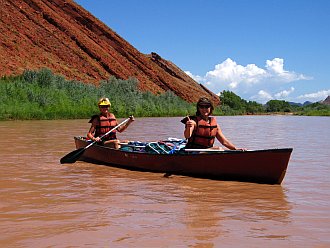 To reserve boats and trip date:  Feel free to call or email us for date availability.  We will be more than happy to send out a trip packet with more information and a worksheet for you to complete and return.  We will ask for credit card to hold the trip date.  If you have to cancel within 14 days of your trip, we will run your card for 50% of your booked reservation total.  If you cancel within 3 days of trip or are a "no show", we will run the card for the whole amount of the reservation.  Regarding the possibility of having to cancel, we strongly suggest you purchase trip cancellation insurance to protect your vacation investment, as there are NO EXCEPTIONS OUTSIDE THE CANCELLATION POLICY.  All reservation fees are due in full by the day of the trip by Visa, MasterCard, or cash.
Again, over the years of booking trips, we have to say we know the river.  But, every trip is different.  The time of season, water levels, weather the day you have booked for, and much more make the river fun all of the time!
It is our policy to reserve the right to cancel any trip at the last minute due to extreme and unsafe conditions, such as high water (over 22,000 c.f.s.), fast-moving water, low water, cold, or high winds.  Should this occur, no money will be exchanged.  If conditions allow, we can/will postpone for a few hours or to the next day.
For groups of 10 or more, a deposit of $20 per person is due the day of reserving your trip date.  This is non-refundable.  The balance is due the day of launch date for the group size and equipment you reserved.