Shuttle Costs
*We do not move vehicles.*  We provide a "Front Shuttle" in which we will meet you at the take-out ramp, where you have parked your vehicle, at an agreed upon time and drive you (and up to 2 additional people) back to your put-in, where your gear was left for launching.
The Colorado River for "The Daily"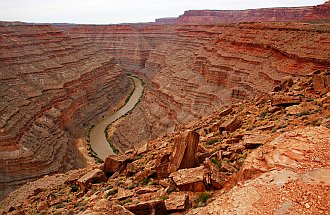 Meeting you at Take-out Beach and driving you to:
Dewey Bridge: $80
Hittle Bottom: $65
Rocky Rapid/Ida: $50
Or, meeting you at:
Moab Boat Ramp and driving you to Take-out Beach: $45
Gold Bar Recreation Site and driving you to Moab Boat Ramp: $50
Potash Boat Ramp and driving you to Moab Boat Ramp: $60
Dewey Bridge or Hittle Bottom and driving you, and up to 3 other people, back up to Cisco Boat Ramp: $210
Cisco, Dewey Bridge, or Hittle Bottom and driving you, and up to 3 other people, back up to Westwater Boat Ramp: $295
Hite Marina and driving you, and up to 6 other people, back up to  the Moab or Potash Boat Ramp: $475

Personal Boat Transportation Rates:
In addition to the shuttle charges for individuals, fees are charged for the handling and transport of each boat that is not rented from Moab Rafting and Canoe Company.
| | |
| --- | --- |
| Boat Type | Price |
| Canoes, Sea Kayaks, and Inflatable Kayaks | $25 each |
By state law, all who go out on the river must be a minimum of 40 pounds in weight.  Additionally, children 12 years and younger must always wear a PFD on all Utah State waters.
To reserve your trip date and shuttle service: After you call or email us to see if we have your requested dates available, we will ask for a credit card (Visa or MasterCard) to hold trip date.  If you have to cancel within 14 days of your trip, we will run your card for 50% of your booked reservation total.  If you cancel within 3 days of trip or if you are a "no show", we will run the card for the whole amount of the reservation.  All reservation fees are due in full by the day of the trip.
It is our policy to reserve the right to cancel any trip at the last minute due to extreme and unsafe conditions, such as high water (over 22,000 c.f.s.), fast-moving water, low water, cold, or high winds.  Should this occur, no money will be exchanged.  If conditions allow, we will proceed with your trip the following day.
Our strongest point is our commitment to providing quality equipment and customized service for our clients.  We work hard so that you can have the best time on your trip and discover a place where you can call a home away from home.