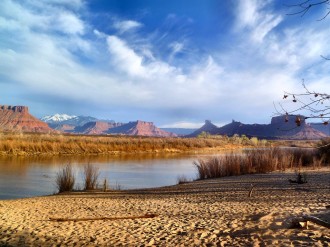 For the 100 miles before The Colorado River meets the Confluence with The Green River, it runs through several stretches of enthusiastic, playful whitewater, and gentle calm stretches of flat water that have become extremely popular with river enthusiasts running day trips out of Moab.  Moab Rafting and Canoe Company offers ways to help you with excursions for several sections of the river near Moab.  Whether you are seeking spirited class I and II whitewater or a relaxing day float, if you have limited time or are a newcomer to rafting and canoeing, or you just want to surround yourself with the colors, sights, smells, and sounds of the river for the day or for a few more, these sections of river will offer all that you seek and more.
Guided Trip: This still requires planning, experience, and equipment that we provide.  Self-guided trips can often be an expensive trip for travelers, but with the guided option, we will provide just about all you will need; a crew that knows the river all too well, directs the route, times, information, food, places, and so much more.
Guided Day Rafting Trip with rapids (Professor Valley, aka "The Daily") – We are not running this section this season.
Guided Overnight (2-day) Rafting Trip – We are not running this section this season.
Self-Guided Trip: An expedition that is a self-governing where one navigates the paperwork, planning, footwork, knowledge of equipment and the area, and a route, oneself.  We can help you with knowing the river, directing the route, times, information, and places.  The BLM and NPS can be a great place to provided suggestions, maps, instructions, directions, and items to see or do during self-guided tours.