A FRAGILE RESOURCE
Conservation of Rivers on the Colorado Plateau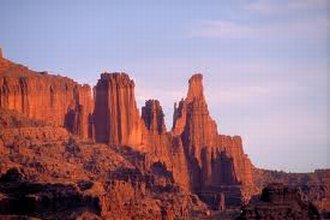 Water in the desert is as precious as gold; any flowing water in an arid land will be the source of contention and competition.  The rivers of the Colorado Plateau have drawn controversy to them like bees to honey.  Powell's exploration of these rivers opened the region to a settlement boom which has yet to abate in 130 years.  With settlement came the need to contain these rivers in order to "reclaim" the desert.  There are few free-flowing rivers left in the Southwest.  A flurry of dam-building begun early in the century has left most of them chained and impounded in a series of reservoirs and dams that have created the largest plumbing system outside of the Columbia River.  Very little of the Colorado's life-giving water that once flowed into the delta at the Gulf of California, now reaches its destination.
The ecological impacts to this region are beyond severe.  Upstream, where the waters still flow, the impacts have been no less important.  Native flora and fauna have disappeared from many stretches of the river and daily fluctuations in water released from dams upstream have caused important changes in the character and ecology of the river systems.  Clear, sediment-free water scours the beaches and sandbars, and changes in water temperature affect the native fish and other riparian creatures.
Dams and reservoirs are not the only threat to these fragile ecosystems, however.  Mining can send dangerous chemicals into the water, agriculture adds pesticides and salts to the rivers and their soils.  Development removes riverside vegetation and habitat to make way for homes and towns.  Water is diverted for agriculture, and grazing tramples and fouls tiny tributaries to larger streams.  In addition, human visitors often damage or destroy fragile habitat with careless use of recreational vehicles.
Riparian (riverside) habitat is the most diverse and precious habitat in the arid lands, supporting a disproportionately greater number of wildlife species than any other habitat.  More than 90% of the original riparian habitat in the arid lands has been destroyed since settlement began in this area and estimates are that as much as 80% of the remaining amount is in seriously endangered condition.  A recent report by the Defenders of Wildlife listed Southwest riparian habitat as one of the most endangered ecosystems in the United States.
Moab Rafting and Canoe Company supports conservation and educational efforts on the Colorado Plateau, and we encourage and practice low-impact camping.  It is our belief that only through education and mindful stewardship of the lands on which we work and play can we develop a healthy relationship to our planet, and preserve these lands for our children and all those who follow.  There are many organizations that are dedicated to education and conservation efforts in the region.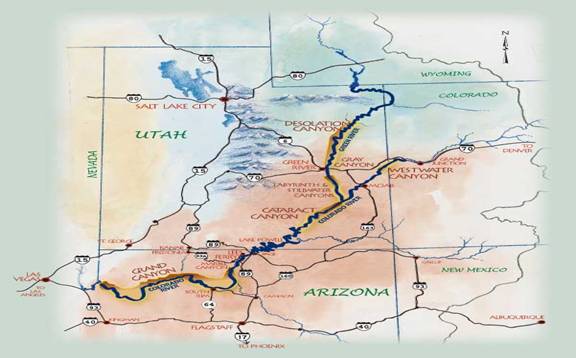 Contact:

Colorado Plateau River Guides
P.O. Box 344
Moab, UT 84532

Glen Canyon Institute
P.O. Box 1925
Flagstaff, AZ 86002

Headwaters Institute
138 J Street Second Floor
Sacramento, CA 95814
(916) 442-3155

Sierra Club
2273 S. Highland Drive #2D
Salt Lake City, UT 84106
(801) 467-9294

Southern Utah Wilderness Alliance
P.O. Box 968
Moab, UT 84532
(435) 259-5440

Utah Rivers Council
1471 South 1100 East
Salt Lake City, UT 84105
(801) 486-4776

Wild Utah Project
165 S. Main Suite 1
Salt Lake City, UT 84111
(801) 328-3550