River trip! Let us help you!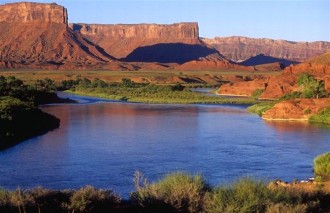 We offer:
2/two to 12/twelve day guided raft and canoe river trips
Self-guided canoe excursions
Shuttle service for the self-trippers
Explore the Colorado Plateau- Canyonlands Country
On the Colorado River
The Green River down Labyrinth Canyon
The San Juan River
Discover your first red rock river expedition of a lifetime! Come back for more, season after season, year after year!
MRCC is a small locally owned and staffed shop.
Our strongest points are our:
Commitment to providing customized / commissioned / tailored service for our clients.
Professional quality equipment.
Our knowledge of the rivers and the area.
Years of experience in Utah and on the Colorado Plateau give MRCC a depth of experience rarely seen. Don't be fooled by this company's humble appearance; the crew can run a shop, make your plans, drive the roads, and read the river like no other.
Our willingness to work hard together with you and the crew to give you the kind of experience you are hoping to have.  As a result, the person who takes your reservation may be office staff, your river guide, a shuttle driver, or the phone answering machine (because we are working with one on trip details, on a shuttle, on the river, or out with the water hose cleaning gear). All of us (except the machine), are concerned with getting your trip arranged and getting you out on the river!
Providing our patrons a place they can call home away from home by establishing trust and making friends.
Our longer trips are calling out to those expedition-minded folks who are interested in all that a river trip can offer:
Relaxing, unwinding, slowing down, taking in the fantastic beauty of the canyons and the river; and then,
Being active: dealing with weather, mud, and whatever comes next. Expeditions are planned with one main objective, but it is usually the "whatever" entering in that makes for the great stories and special memories.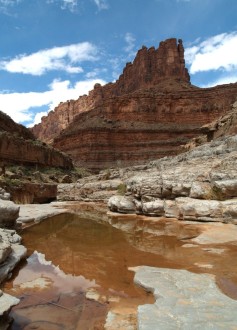 One of our people commented after doing a 10-day, 83 mile river trip: "A trip like this is for everyone who wants to BE here. There are unavoidable discomforts involved in being on the river for so long, but the rewards more than make up for it."
Trips cost:
(Depending on river of choice, group size, days out, and equipment)
$45.00 to $195.00 per person per day.
There are many variables to deal with in planning your trip. The same rivers we are out on day to day are not the same from day to day. These are not "free flowing" rivers so water use up river as well as weather causes spring trips to be very different from summer or autumn trips. Canoes, oar rafts and paddle rafts provide different experiences. Over many river seasons we have found that it takes at least a few phone calls and/or e-mails to plan a great trip for great memories, and a few more to finalize it. We've designed our web site to provide you with the tools necessary for putting together your best trip – be it solo or group, one day or several, but communication is very important for ironing out details. We will help with trip cost break downs, ideas and questions, and we'll do our best to help you make your custom red rock river trip a reality!