River trip!  Let us help you!
~Get on board!  We currently have openings for a Guided 5 day upper San Juan River RAFTING Tour for March 11 -15, 2018  ~OR~  an 8 day, full stretch Guided San Juan River CANOEING Tour for April 10 – 17, 2018!  Call us today for more information and to book your reservation!  No minimum group size to join either trip.  Just a few spots left!~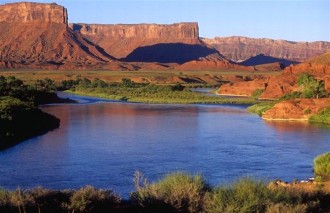 We offer:
Self-Guided Day Canoe Trips
Self-Guided Multi-Day Canoe Excursions
Guided Multi-Day Rafting and Canoe Tours
Land Shuttle Service for the Self-Trippers
Camping Equipment Rental
Explore the Colorado Plateau – Canyonlands Country on:
The Colorado River
The Green River
The San Juan River
***We specialize in Multi-Day Trips on The Green and San Juan Rivers!***
Our river season is from March 1st to October 31st.
Discover your red rock river expedition of a lifetime with Moab Rafting and Canoe Company!  You will come back for more, season after season, year after year!  Great memories are made with our company!

The first river you paddle runs through the rest of your life.  It bubbles up in pools and eddies to remind you who you are. — Lynn Noel
MRCC prides itself in being a small, locally owned and staffed shop run by canoe and raft enthusiasts!  We consider ourselves ambassadors to Moab's red rock canyon country, and we love to share the joy that we feel every time we walk these canyons or paddle these waters!
Our focus is on personalized customer service, flexibility, and hospitality, qualities that set us apart from the rest!
Our strongest points are our:
Commitment to providing customized, commissioned, and tailored service for our clients who desire outdoor river adventure
Professional quality equipment
Our knowledge of the rivers and the area
Years of experience in Utah, and on the Colorado Plateau, gives MRCC a depth of experience rarely seen.  Our crew can run a shop, plan your MRCC river trip, drive those rugged, backcountry roads, and read the river like no other!
We are willing work hard for you and give you the kind of experience you are hoping to have out on the river.  As a result, the person who takes your reservation may be office staff, your river guide, a shuttle driver, or the answering machine (because we are on the other line working with someone and their trip details, are out on a shuttle run, out on the river, or in the boat yard with the water hose cleaning gear).  All of us are concerned with getting your trip arranged and can't wait to get you out on the river for a beautiful experience!  After all, life is better on the river!
We want to provide our patrons with a place they can call a home away from home by establishing trust, making friends, and building lasting relationships with every individual that walks through our door.
Our longer, multi-day trips are calling out to those expedition-minded folks who are interested in all that a river trip can offer, such as:
Relaxing, unwinding, slowing down, escaping into the remote solitude of the backcountry wilderness, and taking in the fantastic beauty of the canyons and the river; and then,
Being active, hiking, camping, dealing with unpredictable weather and the elements (wind, heat, cold), mud, sand, and whatever comes next!  Expeditions are planned with one main objective in mind, but it is usually the "whatever" entering in that makes for the great stories and special memories.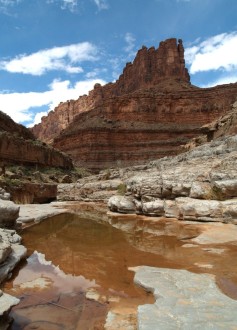 A Self-Guided Trip is an expedition that is self-governing where one navigates and is responsible for all of the paperwork, planning, footwork, and knowledge of equipment/gear, the area, the river, and route oneself.  The Bureau of Land Management (BLM) can be a great place to start with providing suggestions, maps, instructions, directions, and items to see or do during self-guided tours.
A Guided Tour is an expedition where Moab Rafting and Canoe Company provides just about all you will need, including a crew that knows the river all too well, directs the route & times, information, places to hike and camp, and so much more!  But, it still requires planning, experience, and equipment, all of which we offer.
One of our repeat customers commented, after doing a 10-day Guided, 84 mile river trip, "A trip like this is for everyone who wants to BE here.  There are unavoidable discomforts involved in being on the river for so long, but the rewards more than make up for it."
There are many variables to deal with in planning your expedition.  The same rivers we are out on day-to-day, are not the same from day-to-day.  These are not "free flowing" rivers, so water use up river, as well as weather, causes spring trips to be very different from summer or autumn trips.  Regarding Mother Nature and the river, as much as you want (and ask), we cannot give you absolutes, especially in terms of the extreme desert conditions and variances that occur in our environment daily.  This is why we speak in generalities and tell you to be well prepared for your trip!  Canoes, oar rafts, and paddle rafts provide different experiences.  Over many river seasons, we have found that it takes at least a few phone calls and/or emails to plan a great trip for great memories, and a few more to finalize it.  If you take the time, we've designed our website to provide you with a wealth of information and the tools necessary for putting together your best trip – be it solo or group, one day or several, but communication is very important for ironing out details.  We will help with trip cost break downs, ideas and questions, and we'll do our best to help you make your custom red rock river trip a reality!
"You can no more read the same book again than you can step into the same river."
― Neil Gaiman
**NOTE for Shuttle Service: WE DO NOT MOVE VEHICLES!
Moab Rafting and Canoe Company is a dog-friendly, river trip company!