Self-Guided San Juan River
First, let's talk about the Bureau of Land Management (BLM) Permits
As a Self-Guided San Juan River Canoe Trip, you must first secure a river permit from the BLM Monticello Field office:
435 N. Main St., Monticello, Utah 84535
435-587-1500 (M-F 8:00 am – 12:00 pm MDT)
www.blm.gov Navigate to San Juan River Permits page/Permit Information page/and River Use Stipulations
(Go to the BLM web page to start the process well in advance, as available dates can become scarce.)
This is a Self-Guided Trip.  A Self-Guided Trip is self-governing where one navigates the paperwork, footwork, and knowledge of the area and route oneself, as opposed to a Guided Tour, where Moab Rafting and Canoe Company will provide just about all you need, plus a crew that knows the river all too well, directs the route, times, information, and places.  The BLM is a great place to start providing suggestions, maps, instructions, directions, and items to see or do during self-guided trips.
As a canoe trip, this river is not for everyone.  It is only for skilled, advanced canoeists.  The San Juan River is one of the fastest moving rivers in the U.S. and is very technical due to the average gradient that is steeper than the Colorado River in Grand Canyon!  If grabbing the gunnels/gunwales in waves is not part of your paddling skills, then consider a Self-Guided Flat Water Green River Canoe Trip, as described elsewhere on this site.  And, if you don't know what gunnels/gunwales are, you should really start with a Guided Green River Canoe Trip.
*We do not rent rafts.*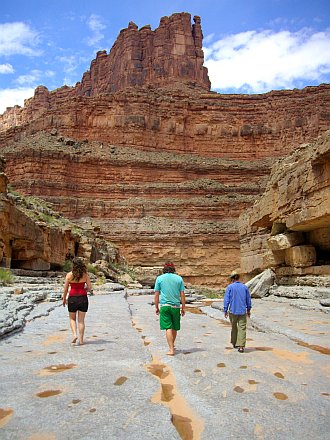 Well, are you still in?
Let's talk canoes while you work on your BLM San Juan River Permit:
Wenonah Tandem Cascade Canoe 17 ½ ft @ $40 per day
Wenonah Solo Wilderness Canoe 15 ½ ft @ $30 per day (we have 2 total, if available)
EQUIPMENT included with tandem canoe rentals:
PFDs (Personal Floatation Device, a.k.a. life vests) (2), Paddles (3), Throwing device, Bail bucket, Whistle, and a Fire pan
**We need to hold a Mastercard or Visa credit card number as a deposit ($1,000 per canoe)**
For Wenonah canoe specs, you can go to Wenonah.com
Canoe and Gear Shuttle Cost Only (no people transport):
1-8 canoes Sand Island to Mexican Hat $495
1-8 canoes Sand Island or Mexican Hat to Clay Hills $695
*We do not move vehicles.  Other shuttle companies:
San Juan Shuttles 435-672-2455
Valle's Trading Post in Mexican Hat, UT 435-683-2226
What you will need to bring:
River map, river toilet (mandatory), group camping equipment/kitchen commissary, staples, coolers, stove, tent, sleeping bag, sunblock, insect repellent, sun hat, and meals from lunch on the first day to lunch on the last day (Please visit our Packing List tab for a more extensive list.)
Drinking and cooking water (

must be carried in

) – 1 gallon per person per day, along with ½ to 1 gallon per meal for cooking (consider menu, group size, and days out on the river)
BLM Permit

A satellite phone is optional, but highly recommended.
On the morning of your Self-Guided San Juan River Canoe Trip, the shuttle driver will meet you at 10:30 am MDT, at the San Juan River boat ramp put-in, pre-arranged for Sand Island or Mexican Hat.  At this time, you will pay the bill in full, if not already done, and complete some paperwork.  You will then help the driver move your rental gear from the vehicle.  Off you go and good luck with the BLM ramp check-out.
Jumping ahead to the pre-arranged take-out at Mexican Hat or Clay Hills, pick-up is at 1:00 pm.  Again, at this point, you will help the shuttle driver reload rental gear into the shuttle vehicle.  You will need to work on your own to get your car moved to the take-out and/or transportation back to your car at the put-in.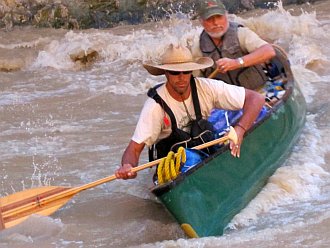 If you are thinking this is looking like more footwork then you would like, then…we can help you by offering a Guided Custom Deluxe Canoe Trip (or Raft Trip) with raft support on the San Juan.
Please call for Rates and Launch dates.
We will customize a "Guided" trip for your family or group.
Launch dates with our BLM permit are available for custom trips from March through October.
By state law, all who go out on the river must be a minimum of 40 pounds in weight.  Additionally, children 12 years and younger must always wear a PFD on all Utah State waters.
O.K., still in? Let's get down to the paperwork:
Oh, by the way, did you get your BLM permit?
To reserve your rental gear and shuttle dates: Feel free to call or email us to reserve your canoes, dates, and trip.  Don't forget your BLM stipulations (i.e. river toilet system).  For a deposit, we will ask for a credit card to hold the trip date.  If you have to cancel within 14 days of your trip, we will run your card for 50% of your booked reservation total.  If you cancel within 3 days of trip or if you are a "no show", we will run the card for the whole amount of the reservation.  All reservation fees are due in full by the day of the trip.
It is our policy to reserve the right to cancel any trip at the last minute due to extreme and unsafe conditions, such as high water (i.e. over 22,000 c.f.s.), fast-moving water, low water, cold, or high winds.  Should this occur, no money will be exchanged.  If the situation allows, we can/will postpone to the next day.
Self-Guided San Juan RENTAL AGREEMENT
Meet at the river at 10:30-ish am, with a pick-up at 1:00 pm
Shuttle Cost: ______$495 Mexican Hat _____$695 Clay Hills
Available rental gear per trip (see prices below):
*Full Kitchen box includes: plates, bowls, cups, knives, forks, spoons, cutting knives, can opener, salad bowl, fry pan, pot & strainer, pot holder, cutting board, juice container, and washing pans
Personal Boat Transportation Rates:
In addition to the shuttle charges for individuals and their gear, fees are charged for the handling and transport of each boat that is not rented from Moab Rafting and Canoe Company.
| | |
| --- | --- |
| Boat Type | Price |
| Canoes, Sea Kayaks, and Inflatable Kayaks | $35 each |
Canoe Rental Cost Per Trip

No. of Canoe(s)
x Canoe Cost ($30 – $50)
$
No. of Days
 =
$
Total Canoe Cost
Item

Cost

Quantity

 

Total

Item

Cost

Quantity

 

Total

River toilet

$45.00

 

 

$
Helmet

$5.00

 

 

$
5 gal. H2O jug

$8.00

 

 

$
Tent

$25.00

 

 

$
Dry bag

$10.00

 

 

$
Sleeping bag

$15.00

 

 

$
60 qt. Cooler

$20.00

 

 

$
Sleeping pad

$20.00

 

 

$
PFD

$5.00

 

 

$
Camp chair

$10.00

 

 

$
Paddle

$5.00

 

 

$
Roll-A-Table

$20.00

 

 

$
Throw bag

$10.00

 

 

$
*Kitchen box

$95.00

 

 

$
Stove (2 burner, you will need to

$25.00

 

 

$
River map


$20.00


 

 

 

 supply propane)
 
 

Subtotal

=

$

 

 

 
 

Utah Tax (8.60%)

=

$

 

 

 
 

Balance Due

=

$